Well, it's the first Tube Day Tuesday since the new season of White Collar premiered, so it's really not much of a shocker what I want to talk about today, right?  Fair warning:  while not a full recap, there will definitely be spoilers ahead (though probably not much more than could have been deduced by promos).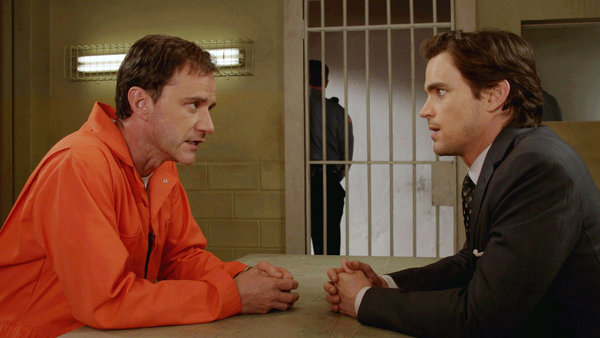 We ended season four with our illustrious FBI agent, Peter Burke, arrested for murder.  It's no surprise to anyone that he got out of jail, though I have to say I was surprised the whole incarceration was downplayed as much as it was.  Not that Peter behind bars was the point of the story, of course, just a way to put his partner, not-quite-reformed con man, Neal Caffrey, back on the wrong side of the law.  Still, I had expected it to take longer than fifteen minutes or so—maybe even a whole episode or more.  I'm really on the fence with how I feel about wrapping it up so quickly.  On the one hand, there really is no suspense, since we all know he can't stay in jail forever and have the show continue.  And, of course, the longer the storyline focuses on the situation, the longer the viewer has to wonder just how likely it is that a highly respected federal agent would really be forced to remain in custody pending the grand jury.  Though, it was a murder charge, so certainly most people don't get bail under such circumstances—and especially with such damning evidence—but if anyone was likely to get that exception, I'm pretty sure it would be Peter.  But on the other hand, I wouldn't have minded seeing some of the stuff that was happening in the outside world while Peter was locked up, particularly what was happening with Neal and whoever his handler was for those six weeks.  hmm.  I wonder if there's a fanfic hiding in there somewhere?
But, anyway, like I said, Peter was really only in such dire circumstances to give Neal an opportunity to be a bad boy again, even if it was all in the name of righting a serious wrong.  So Caffrey makes a deal with the devil—in the form of Curtis Hagen, the criminal Neal helped Peter catch in their very first case together—and the devil makes a well-placed call to get Peter sprung.  More important, though, is that the deal causes more problems for Neal than he anticipated, leading Peter to get just a little bit suspicious and Neal being asked to pay a price far higher than he had planned.
All of this puts White Collar squarely back where it shines the brightest:  Peter and Neal trying to maintain their unexpected friendship while wrestling with problems of honesty and trust.  And that dynamic will be amped up an extra level this season with Peter accepting a promotion out of the field, thereby putting someone new directly in charge of Neal, all while Neal is being forced into actions that will directly betray the bureau and its most recently promoted assistant special agent in charge. 
So, things have been nicely set up to get us through at least the first half of season five.  Whether this new set up lasts much longer than that remains to be seen, but, as always, I will count on the cast and crew at White Collar to keep coming up with fun and fascinating stories to tell, and I'm just going to sit back and enjoy the ride.